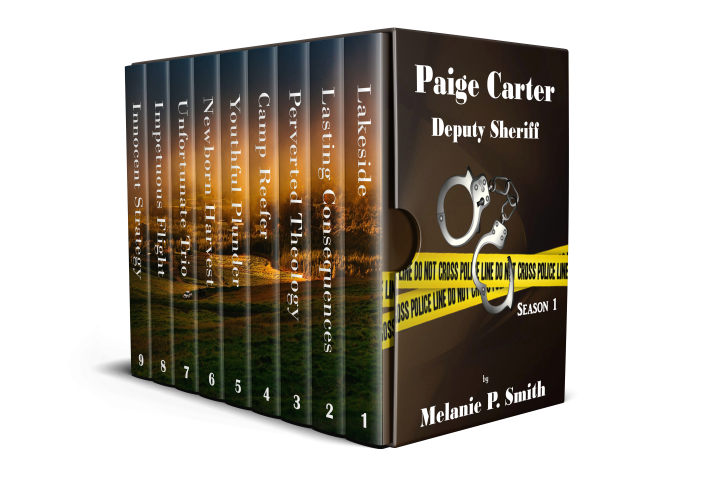 Season 1
How it all began... Meet Paige Carter, Manti's Newest Deputy. This is a police procedural series. Each new episode introduces a new crime that needs to be solved. In Season 1, Paige Carter resigned from the FBI and moved to Manti, Utah. She secures a job with the local Sheriff's Office and immediately learns someone is not happy she moved back to town.
Feedback from Readers
"You need to read this. It was so good I was still up at 4am reading this story. - Sharlene

I love these! Looking forward to the next episode. - Diana


Buy Direct from the author and save with Authors Direct.  Download App iOS or ANDROID
----------
ABOUT AIMEE BARRETT (Narrator)
On-Air Producer/Host/Reporter with twenty-five years experience in radio and television, including six years nationally-syndicated at Minnesota Public Radio/Public Radio International. Music Producer/Engineer. Currently Host/Producer at All Classical, Portland, OR.
Adjunct Instructor, Philosophy, Portland Community College. National and regional voice-over talent.
----------
1.
Check the inbox (and spam folder!) of your email address used to purchase the audiobook on Authors Direct. It may take up the 
5 minutes
 for the email to arrive.
2.
You'll receive an email from Authors Direct.  It contains your temporary password to login to the free
Authors Direct
 mobile application on
iOS
and
Android.
3.
Download the app to your smartphone/tablet and login using your temporary password.  You'll set a new custom password the first time you login. You'll find your audiobook is waiting for you seconds after you've made your purchase and logged in for the first time. Subsequent purchases under the same email address will automatically appear in your Authors Direct library.



Now that General Porter and his team have neutralized the national security threat, Dax's team of militants try to come to grips with civilian life. Paige struggles to deal with major changes in her personal life while she continues to solve local crime. And, why is Dax keeping secrets?