Interesting facts...
Tell us a Little about yourself.
When it comes to me talking about me and my books I'm a disaster! Do I mention being abandoned in the African bush with a 9 week old baby? That I've lived in 8 countries, in a mansion, a one bed flat and on a boat? Meeting kings, presidents, international artists and peasants? Earning my living by writing after I got fired from my teaching post? Or what about that live radio broadcast with a bayonet digging into my neck? I could tell you about running my own video production company, and tales about some of the famous people I've worked with. The problem is there is so much it took 3 books to put it all down on paper and that's only the bits I remember.

Tell us your latest news
I'm retired now. No, I'm pretending, and working 24/7 writing books and trying to sell the wretched things. Once I make the first million or five, I'll be off sailing round the world scribbling on my mega yacht.
I guess I should really mention my books? I'm a multi genre writer. In my time writing for radio and television, I've tackled subjects as bizarre as splitting the atom, how to climb a ladder, how a bakery operates, maths, English and science series, good business practices, how they make potato crisps, programmes for tourism and local and national government and so on and so on and so on. Add in mayoral speeches, adverts, brochures, my newspaper column and magazine articles, and I'm sure you get the message.
So, it was quite a challenge, once I'd scribbled my memoirs, to write a full-length novel. I was now my own client. I could write as long or as short as I wanted, set my own deadlines. The freedom was exhilarating. I'd had plenty of those 'clients from hell' but not one was as bad as me.
Walking over Eggshells was my first full length novel – a memoir and then I created Amie, who is now so real I'm tempted to lay a place for her at the table. I dragged her unwillingly out of her nice, safe, suburban home outside London and sent her to Africa. Civil war breaks out and she's in real trouble. It's action adventure page-turning stuff. Book 5 was released in February 2019.
I've changed genre again with my first psychological novel A Year in the Life of Leah Brand. In its first week it's already done much better than I expected.
Have you ever finished reading a book (OR...been intrigued by a synopsis) and wished you could get to know one of the characters a little better? Well, you're in luck. I was contacted by Amie who wanted to tell you a little bit about herself...
Dear Melanie,
I hacked into Lucinda E Clarke's laptop yesterday, as you do, well I do anyway, and saw you had invited her to answer some questions. To be quite honest, I don't think she is all that interesting, and certainly not worth appearing on your important author spotlight.
So, I have decided to tell you more about me, as I've had lots of thrilling adventures.
My name is Amie Fish and I was quite happy living in England near my parents and sister. But Ms Clarke had other ideas and she sent me to Africa and put me in jail, involved me in a civil war, placed me in front of a firing squad and then had me trek alone, yes, alone across the bush to survive as best I could. I encountered wild animals, dangerous ones, and in subsequent books I lost a child I loved, pitted wits against a fundamentalist group and was then hijacked by the British government and forced into being a spy. You wouldn't believe the angst and hardship that woman has put me through.
To date she has written 5 books about me, the first is Amie African Adventure, then Amie and the Child of Africa; Amie Stolen Future, Amie Cut for Life, and Amie Savage Safari.
A lot of readers have been kind enough to tell me how brave I am and how I have changed from a timid housewife to a capable, albeit reluctant, spy. I love Africa and its people and the way of life and I like to share that with people who adore the books about me.
Lucinda is talking about a sixth book, and while we have this love hate relationship – partly because she has this nasty habit of killing off people I get to know and love – I am worried. Very worried.
Now I'm telling you this in confidence, but Ms Clarke is a little schizophrenic. She began by writing biographies about her life, which I guess are sort of interesting. Then she wrote those wonderful books about me, including a couple of back stories about my sister and my friend Ben.
Then, wait for it, she changed genre and wrote a fairy tale for grownups, a satirical tale about Cinderella and all her friends and then she changed tack again and has just published her first psychological thriller – A Year in the Life of Leah Brand. Now this has made me really mad. A new woman, another paper star, and I think she is going to write a second book about her. When you are the acknowledged heroine created by your author you do not need this kind of competition.
There is no comparison: I am mid-thirties, a widow but with a lovely boyfriend called Simon and we're getting married – but I guess that is on hold. At the end of book 5 we're planning the wedding but until she starts book 6, I have no idea if that happens. I have led an exciting life, facing lions, hyenas, elephants, crocodiles and such, and can take care of myself in the bush. I can shoot, I've been trained to kill and I'm very brave and resourceful, but I'm also kind and compassionate. I'm almost perfect apart from my dithering.
Now compare me to Leah, who has led a staid life in England, lost her husband in a car crash and married again and is now being terrorised in her own home and driven into madness. I could shake her honestly, I could. She trusts all the wrong people.
So, to answer your question about being locked in a room for a day to torment someone then please give me Leah. I'd either strangle her or try to knock some sense into her. If you can't get her for me then my sister Samantha will have to do. She is enough to drive a saint insane. Have you written about her first trip abroad with fiancé Gerry? Well, if it could go wrong it went wrong and it was all her fault. Then she has the temerity to say I'm not capable.
Who would I like to be stuck in an elevator with? It has to be Steven Spielberg of course. Once he's met me, he'll be desperate to make wonderful movies of my adventures in Africa. I would insist in starring in them of course, to keep it really authentic.
My best friend? Apart form my love interests that would have to be Mrs Motswezi. I first met her at the orphanage she runs for little African children, many had lost their parents from AIDS. She's not had an easy life. The orphanage was destroyed by rebels, and when she fled to her village, that was attacked as well. We spent many days together as we tried to escape from the fundamentalists and rescue the women they had enslaved. Mrs Motswezi is a brave, sensible woman who taught me much about African culture and their way of thinking.
Sincerely,
Amie Fish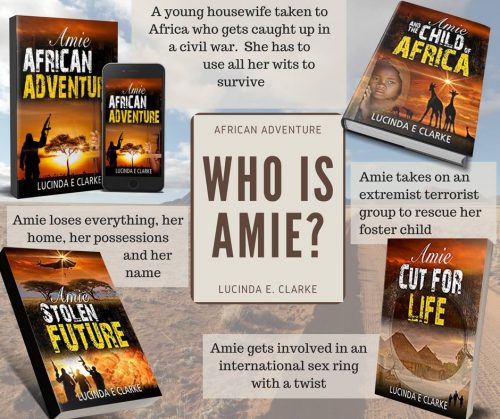 Lucinda's Books...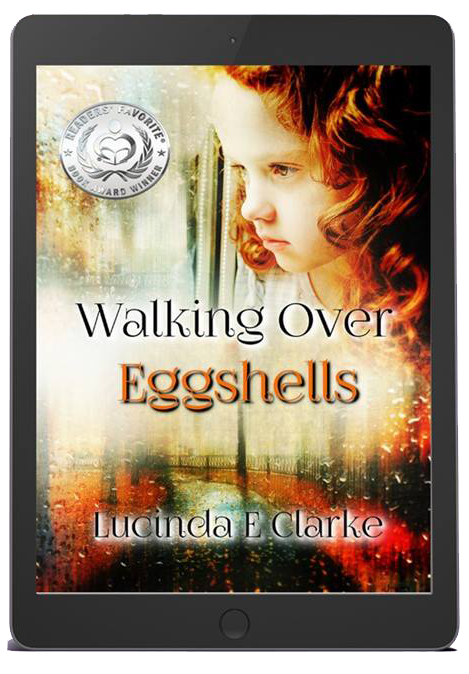 Walking Over Eggshells is an autobiography that tells the story of a mentally abused child, who married a "Walter Mitty" clone.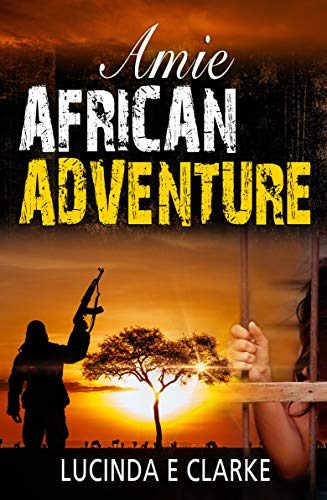 Would you leave your family and friends and follow your husband to start a new life in Africa?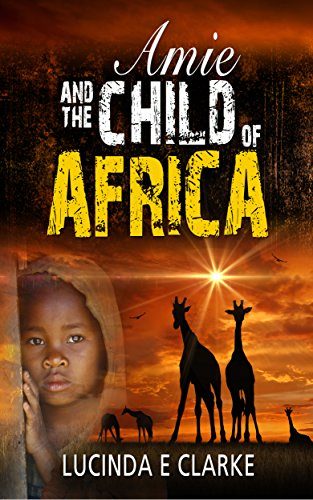 Amie sets out to rescue the foster child she lost during the civil war, but she has no idea of the dangers she will face.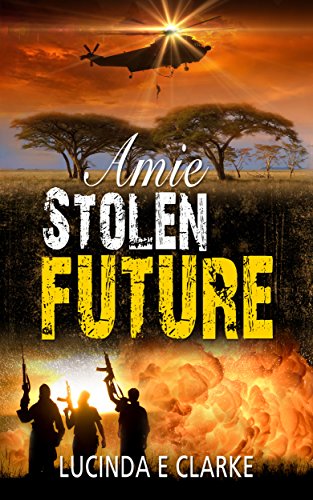 Amie returns to her beloved Africa and a settled life, but her enemies have neither forgiven nor forgotten her. They are determined to take their revenge and reclaim their honour.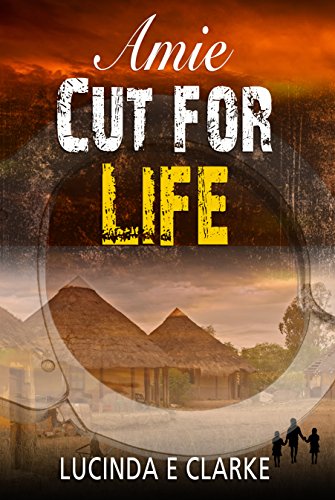 They told Amie it was a simple look, listen and report back mission, but from the beginning everything went wrong. She is stalked across borders, the aid workers act suspiciously, she's assaulted, and abandoned in a rural African hut miles from anywhere.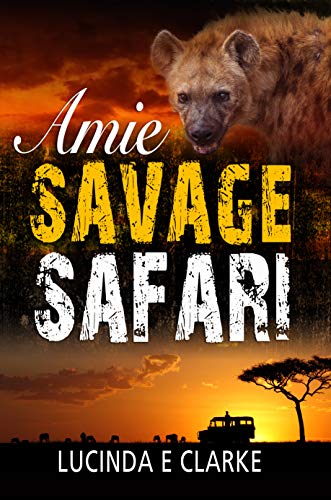 How could a safari camp in the African bush along with the President and international representatives from several countries possibly be dangerous?
Leah Brand: A Psychological Thriller
Leah's nightmare began the day the dog died. 

A few years earlier a fatal car crash took the lives of Leah's beloved husband and their two babies, leaving her disabled. Life looked bleak. She was approaching forty, unemployed, broke and desperate. 

Then she met Mason. He was charming, charismatic, persuasive, and a successful businessman, well respected in the community. His teenage daughter did nothing to welcome Leah into the family, but life is never perfect.

Then, two years into her second marriage, Leah Brand's world is turned upside down; inanimate objects in the house move, her clothes are left out for the rubbish collection, pieces of furniture change places, there are unexplained noises and hauntings.

As the disturbances increase, everyone accuses Leah of losing her mind. Soon she begins to doubt herself and she starts to spiral down into a world of insanity. Is she going mad, or is someone out to destroy her? And if so, why? 

A gripping, psychological thriller for fans of Mary Higgins Clarke and Louise Jensen. 
Related Posts