Interesting facts...
Graham Watkins is a multi genre author, including historical fiction and thrillers, who started writing when he retired. He cut his teeth researching and reinventing Welsh legends and myths, a four year project exploring Wales and its rich legacy of stories. Graham lives in a rambling farmhouse in the Brecon Beacons with his wife, a lunatic rescue dog called Sally and a motley collection of animals which at different times have included, chickens, ducks, geese, sheep and Welsh Black cattle. His neighbours describe him, not unkindly, as a hobby farmer who tries to write and gives talks about his writing to anyone who will listen.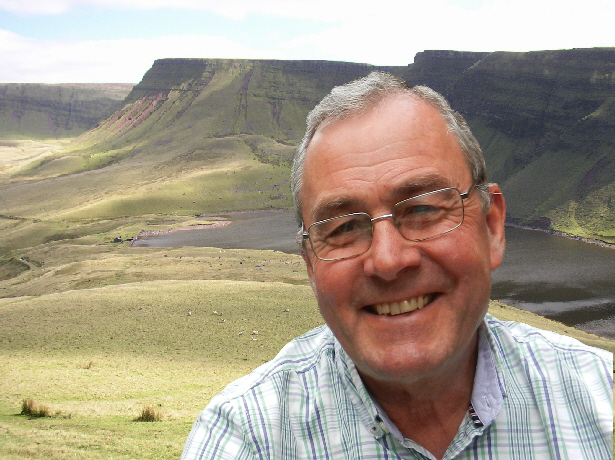 Have you ever finished reading a book (OR...been intrigued by a synopsis) and wished you could get to know one of the characters a little better? Well, you're in luck. Get to know David Morgan, from Ty Uchaf Rose (One of the short stories included A Walk in the Woods)...
Hi Melanie. My name is David Morgan, Dave to my friends. When I learnt that the author Graham Watkins wanted to include the story of the Ty Uchaf Rose in his new collection of short stories called A Walk in the Woods I was surprised and thrilled.
"What's Ty Uchaf?" I hear you ask. It literally translates from Welsh as upper house. As you've probably guessed, the story is about a remote cottage high on a Welsh mountain and a rose.
I suppose I should step back and begin by telling you a little about myself. I'm thirty-seven and until three months ago happily married, or so I thought. At least that's how it was when I bought Ty Uchaf. I'm no hero and according to my ex, Valerie who threw me out, I'm an alcoholic. The divorce court believed her and that's why she has custody of our son, Eddie.
You see, the derelict cottage is my escape from her lies, a chance to begin again with a new life. Like me, Ty Uchaf is broken and unloved. My plan is to rebuild it, to breathe life back into the cold stone. Then, in my dream, the cottage will become my refuge, a cosy home full of warmth where Eddie can visit. We will walk the mountain together, fish for trout in the river, sit under the stars with a roaring fire-pit and talk like a normal father and son.
Don't get me wrong. I know I've been a fool. Maybe I do drink too much and if I could change the past I would but the world isn't like that.
As Graham writes the story of Ty Uchaf, I try to explain to myself why I've bought a desolate ruined cottage on a mountain and moved into a shabby caravan. I've already told you the rational reasons, the ones I used to convince myself but there is something else. It's as if I've been told to come and live on the mountain and rebuild Ty Uchaf. Something or someone is summoning me and I have no choice. It probably sounds stupid and I can't explain it.
But, whatever the reason, I'm sure it's for the best because of my temper and what I might have done to Carl if I'd stayed. If there's one person I really hate it's Valerie's boyfriend. He took Val from me. He's stolen everything I hold dear and even now he's poisoning my son, turning Eddie against me. I don't know how to fight Carl. He's a big man, arrogant, a thug. He sneers at me. If I saw him crossing the road I would run him down.
Yes, I'm safer here on this deserted mountain where all is tranquil, but wait. Graham is writing again. There's a rose growing outside the cottage. A storm is coming. My caravan is being buffeted by the wind. I thought Graham was my friend but now I'm not so sure. All is dark. I can hear corrugated sheets clanking against the barn walls and strange sounds coming from the house.
It's been lovely talking to you Melanie but I have to go. Something is happening.
Want to know more about Graham Watkins? Continue reading his in-depth interview...
Graham, tell us a little about yourself.
Unlike David Morgan, I'm happily married and have been for forty-seven years. Both our families said we were too young but God has smiled on us and it's been a wonderful adventure. I started working life by training as a marine engineer and sailing the oceans but came ashore lured by love. Since then, I've been a salesman selling weighing machines, a barman in a working men's club, worked for a Japanese multinational and driven lorries at an airport. In 1989 my wife and I started our own business which we sold to a UK PLC in 2003 when we retired and, like Dave, ran away to a remote house on a mountain.
How much of A Walk in the Woods is realistic?
That's a great question. Some of the stories Tom Wellies Takes a Bath and The Decoration for example are based on real events with a little writer's embroidery added. Other's including Ty Uchaf Rose are pure fiction. There are several houses called Ty Uchaf on the Black Mountain where we live but none of them have any connection to the story. Other books of mine are also a mixture of fact and fiction. Take my dystopian thriller The Enemy Within where I've extrapolated the present political climate, terrorism, technology and the Covid pandemic and looked forward ten years to what might be. Human nature will not change and although it's a work of fiction it's predicated on likely outcomes. One reviewer described it as, "A well written fast-moving page turner, an interesting concept of a possible future of our society."
What books are you reading now?
I've just finished An Evil Cradling, Brian Keenan's excellent account of his four years spent chained to a radiator as a hostage in Beirut. It's brutal but Keenan's writing is forceful and insightful. Before that I read The Tenderness of Wolves by Stef Penney and sat on my bedside table is Amitav Ghosh's The Humgry Tide. Ghosh's writing is wonderfully descriptive and I loved The Glass Palace.
Who is your favourite author and what is it that really strikes you about their work?
 That's a hard one. David Howarth who writes about historical events is a possible candidate. He is able to bring the reader into the story. Reading his Waterloo - A near run thing I felt like I understood what was going on. They call it the fog of war but David cuts through the mist and tells you what the common soldier was seeing and doing; fascinating stuff. Another possible contender is Christy Lefteri author of The Beekeeper of Aleppo whose writing is hauntingly good.
What are your current project?
I've just finished recording A Walk in the Woods as an audio book and am planning to write another collection of short stories. As I write, Covid is rampant and much of Wales is under lockdown restrictions which, we're told, will last for some time. Fortunately we have six acres of our own and a mountain to hide in so it isn't a problem. Winter is coming. The log fire is burning and my notebook is full of interesting ideas.
Does your work require a lot of research or do you just write what you already know?
For me researching is one of the joys of writing and I do a lot. It's surprising what doing some digging reveals. I'll give you an example. While researching for The Enemy Within I came across an article written by a Harvard Professor claiming it was possible to change a person's DNA using a thing called a CRISP kit. Imagine that; criminals would have a field day and it perfectly suited a plot point in my story. Further research revealed, and I kid you not, that it's possible to buy CRISPR–Cas9 kits for a couple of hundred dollars from Amazon. I don't know how true the professor's claims are but what a great plot twist it gave me.
What are you plans for next year?
Twelve months ago my wife and I purchased a motorhome and planned to spend a month touring Scotland last April. Because of Covid and the UK being locked down the holiday had to be cancelled. Since then the motorhome has gone nowhere and sprouted roots in our yard. On top of that we normally spend time each year with our daughter and her family in North Carolina. That was also cancelled and to make things more unbearable, particularly for my wife, our daughter is expecting another grandchild around Thanksgiving. So, to answer your question, Covid permitting, we plan to fly to the USA at the earliest opportunity to cuddle the new baby and, after that trip we will be heading for the Scottish Highlands for a well earned break.
What do you want written on your headstone?
I would like to think of something funny like Spike Milligan's epitaph, "I told you I was Ill." However I probably won't have a headstone. My last wishes are to be cremated and have my ashes scattered on the Black Mountain where we live. Your question reminds me of research I did for my book Welsh Follies about a man called John Renie whose headstone is in Monmouth churchyard. He carved it himself. What he created was an intricate 'acrostic puzzle' containing 285 letters arranged to read, 'Here lies John Renie.'
To understand the inscription, readers have to start from an 'H' in the centre of the puzzle and follow the letters in any direction. According to Mathematicians who have studied the puzzle, there are 32,032 different ways to read 'Here lies John Renie' on the headstone. It must have been a laborious job carving such an intricate pattern. No records exist to say how many times Renie accidentally chipped off a letter and had to start again with a new blank headstone.
One final Question.. Do you have a blog/website? If so, what is it?
I sure do and I invite everyone to join me at https://www.grahamwatkins.info/ where you can sign up to get occasional stories and snippets about my writing.
Thanks for having me Melanie. It's been fun.
Related Posts