Interesting facts...
Tell us a little about yourself?
My name is Yvonne Glasgow. I've been a published author since 2008, a published poet since sometime on the 90s (if you don't count the poetry book I "self-published" in first grade), and a freelance/professional writer since January of 2000. I started self-publishing around 2011, shortly after I started working full-time as a writer (October 2010).
While I've had numerous books published over the years, I currently only have four in print. They are No Longer Fighting With Myself (a poetry collection about life, love, loss, and moving on to positivity), Possessive Repose (a collection of short horror and science fiction stories, and spooky poetry), The Art Of Throwing Bones (a guidebook to get started on using the divination tools throwing bones), and Following Frankie The Firefly (a children's picture book with a moral about friendship and life).

Tell us your latest news
Which awesome part do you want? I just published Following Frankie The Firefly. It's a fun children's book about taking adventures and learning about friendship. It's definitely for kids that are still being read to, and for those that are just learning to read themselves. Right now, buyers that email me a copy of their receipt (at glassgoatpublishing@gmail.com) will receive some Frankie freebies in the mail (while supplies last), including magnets, stickers, and even buttons. The book is available through Lulu.com.
Do you have a specific writing style?
What is a writing style anyway? I know some writers will outline an entire novel before they write it. I rarely do that, though I can't say I've never done it. Even when I'm working on fiction, I feel like I need to allow the story a chance to write itself, and I feel like an outline would stunt its growth if you know what I mean.
I write. I write every day. That's my writing style. Sometimes the only writing I do is for a gig, but I always try to throw in a little flare of my own creativity (when I can; that's difficult to do when working with SEO content firms).
When I am working on a book or short story, even my poetry, I write a rough draft (often actually writing it, with pen or pencil to paper), and then I rewrite it while I type it into the computer or into the book document. That rewrite will sometimes elicit only a few changes, and at times brings about big edits.
What books and authors have influenced your life most?
As a writer, I truly believe that you need to be a reader. Many books and writers have inspired my works, made me want to be a better writer, influenced me to follow my dreams and more. As a prolific writer who writes in various genres, different writers and books have influenced me over time.
When it comes to my poetry, my biggest inspiration has always been Robert Frost. The poem "The Duel" by Eugene Field has always been an inspiration (since early childhood) for my poetry.
When it comes to horror and science fiction writer, I have a plethora of influencer's. These are the writers I look up to, am inspired by, and try hardest to emulate in some way. They are Stephen King, H.P. Lovecraft, Edgar Allan Poe, and Bentley Little. I can't pinpoint one specific book or stories from any of these men that influenced me; it's the collection of their work combined.
My influences go all over from there, from Wayne Dyer's spiritual writing influences to be pushed to be myself and chase my writing and adventurous dreams by J.D. Salinger's Catcher In The Rye and Jack Kerouac's On The Road.
What are your current projects?
I have so much that I am working on or that I need to be working on. The top projects on my list are:
My next large poetry collection – The title keeps changing, but it's a positive and eclectic follow-up to No Longer Fighting With Myself. Some of the poems are tied up waiting in contests or for journals to decide if they'll print them, and I am still writing some too.
More divination guidebooks – Another passion of mine, aside from writing, is divination. I am writing guidebooks on spirit boards, runes, pendulums, and more.
My first guided meditations – I am working on some meditations for modern enlightenment. I will be writing a book with the meditations in it, as well as recording a CD to accompany it. My husband, Dale Wicks, is a professional musician and will be making the music to go along with my meditations.
A witchy poetry chapbook – This is a project I intend to submit to editors. It's a small collection of poems about loving the moon and nature, finding daily enlightenment and positivity, and embracing our feminine side.
There are plenty of other irons in the fire, but these are the ones I am most focused on right now.
Do you see writing as a career?
I am a full-time writer. It pays the bills. If you'd like to see some of my work, check out my newest gig by visiting https://www.lifesavvy.com/.
I'd love to be a full-time author, but I also enjoy doing book writing on my own time and not needing to follow anyone else's rules when it comes to what I write. Being a freelance article writer, editor, SEO expert, blogger, and reviewer allows me to experiment more, learn more, and expand my knowledge (and get paid for doing it all).
Do you recall how your interest in writing originated?
It was most definitely in the first grade. Our teacher had us write a small book, then they were bound, and covers were made with cardboard and cloth. My sister has my original copy, a poetry book, and I have a photocopy of it. It's filled with poems about dogs and unicorns, and other things little kids like.
From that moment on (and possibly before), I was a poet. My interest in writing beyond poetry stemmed from poetry. I started writing short stories. Then, many years later, I started doing music reviews for a magazine, and after that, I was hooked forever, and that lead to my life as a full-time freelance writer.

No Longer Fighting With Myself' is a collection of 145 poems by Yvonne Glasgow. These are a conglomeration of previously published and never-before-seen poems.
Possessive Repose is an eerie collection of short stories and poetry. Within these pages, beware. You will find ghosts, vampires, serial killers, werewolves, and all of the other things that go bump in the night.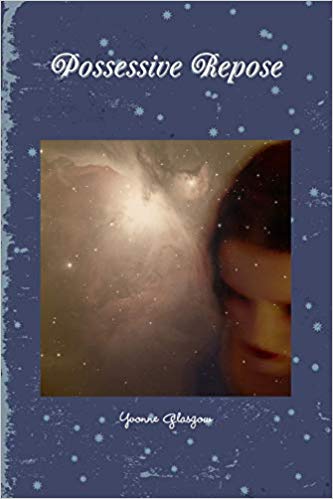 "The Art Of Throwing Bones" is an introduction to a unique form of divination. This booklet will get you started on reading bones and putting together your own unique set.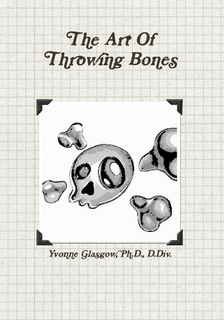 Following Frankie The Firefly is a children's picture book that explores what it's like to have different interests than your friends.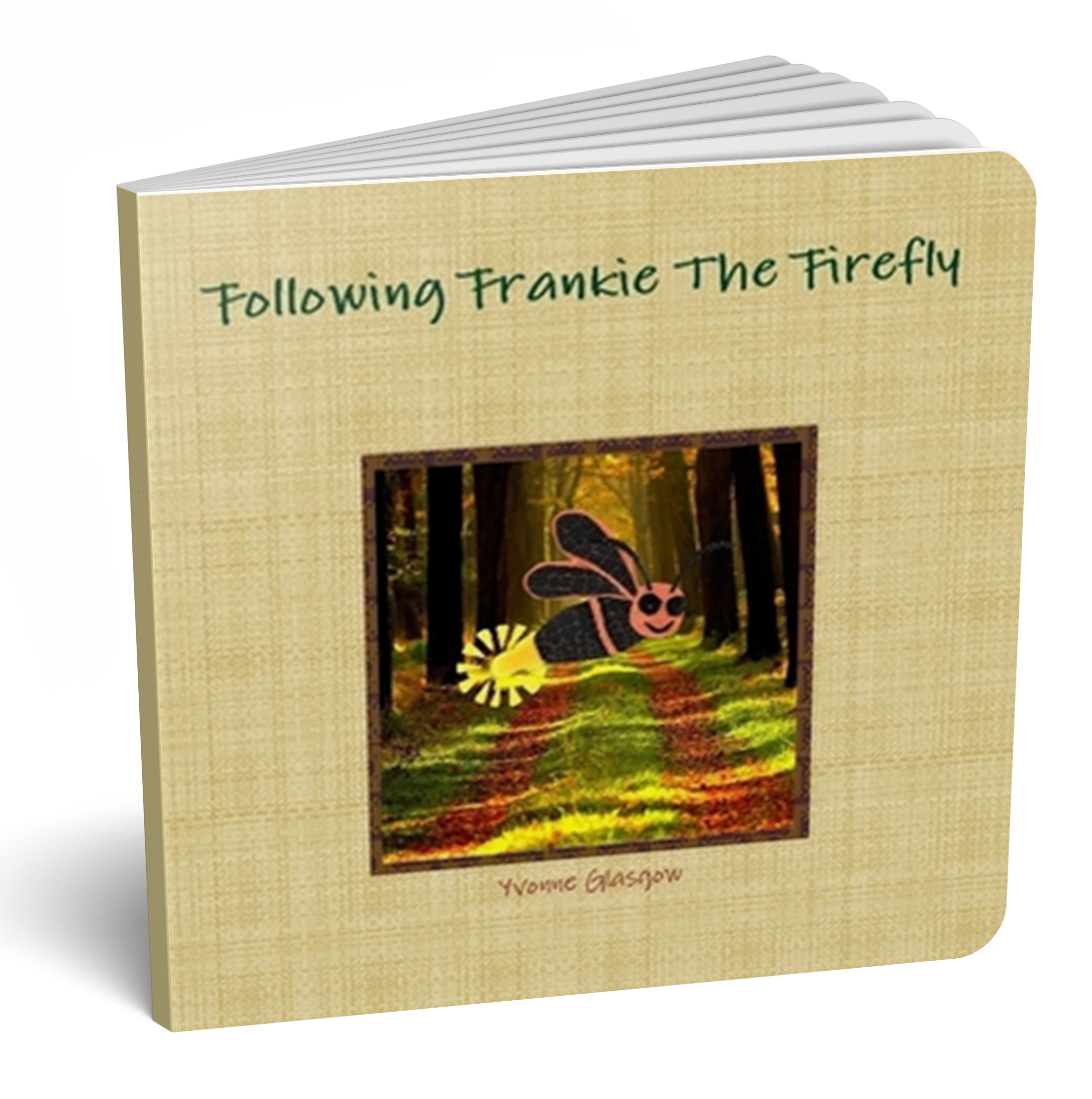 Can you share a little of your current work with us?
With so many things I should be working on, I want to pick something good for you. Maybe a poem will inspire you to buy one of the two books I currently have in print with poetry in them. This book is on its third title, now being referred to as This Life. I will share one of the shorter poems.
Just A Blur
As her dreams unfurled
She tried not to hurl
For she was getting very nervous
As if she were under the bus
A place she knew too well
But she was out of that hell
She only needed to remember
That there would always be a chill in December
But it would fade in the spring
And that was the thing
That pushed her to keep moving forward
There was something she was traveling toward
That bright future she'd dreamed
That at one point she'd deemed
An impossible place to reach
But now she had a breach
And she was breaking through to the other side
Her joy was hard to hide
Because the past was now behind her
And all of those bad memories were just a blur.
Is there anything you find particularly challenging in your writing?
I think writing in itself is challenging. Some people have it, some people have to work hard for it, and some people simply can't write themselves out of a paper bag. I have been told by many I have a natural talent for the written word (mostly by people that barely know me or who have paid me to write for them – I'm definitely not talking about my mom trying to reassure me).
The biggest challenge I find, which isn't a problem this year, is writing SEO for a living and then trying to switch gears to creative writing again. SEO and technical writing have a knack for killing creativity when you do them too much. You forget how to be descriptive, for one thing. I currently have no SEO-focused writing gigs, so my creativity isn't stifled.
Who is your favorite author and what is it that really strikes you about their work?
Of all of the authors I love and am inspired by, if I had to pick one favorite, it would have to be Poe. Edgar Allen Poe collection of works embodies the writing that I am most inspired to do – short stories and poetry, with a lacing of horror.
What was the hardest part of writing your book?
Following Frankie The Firefly is my most recent release, so I'll focus some on that one.
The hardest part of this book was that I wanted to try something different this time around when it came to doing my children's picture books. My past Frankie books had many fans, but it has been years since I worked on kid's books. So, I decided to send a rough draft of the story (with pictures) to a couple of friends with children. While they liked it, it didn't get the love I'd hoped for, and I decided to do a nearly complete rewrite.
Writing a story in poetry form, and then rewriting it as non-poetic is a little challenging. Challenge accepted! It took over a year from my first inkling of ideas to getting the book officially in print, but I had fun with it, learned new things, and probably won't do any more children's books in the future – making Following Frankie The Firefly a must for my friends and fans.
What makes you laugh/cry?
From books to movies, the things that make me cry are the most heartfelt moments (usually when someone on screen or on the page starts crying). I watched 'The Dirt' the other day, the Netflix movie based on the Motley Crue biography of the same name. It's a story I knew, as I read the book when it came out. The story of Vince Neil's daughter, Skyler, is a sad one, but when she passed in the movie, I didn't cry. It was until the band finally met up after Neil had left and been replaced, and they told him they understood, and he started to cry... that was when I wept.
Laughing? I guess the thing that makes me laugh the most is my silly husband and his dad jokes and puns.
What TV shows/films do you enjoy watching?
I prefer not to watch things that make me cry, but that's never an easy thing to overcome. My favorite things to watch usually revolve around serial killers or fall into the genres of horror and suspense. However, I'm easily drawn into shows like Game Of Thrones, Fringe, and Buffy The Vampire Slayer. If it has an element of disbelief, I love it. I already live this life; I want to watch things about lives I couldn't possibly live!
Is there one person past or present you would meet and why?
I'd love to meet Wayne Dyer. Not possible since he passed away a few years ago. His works are extremely inspirational to me as an intuitive, sensitive, and as a life coach and spiritual advisor. It would be amazing to talk with him about how he got started, and what drove him to be a guide to others when it comes to living our most fulfilled lives.
Other than writing do you have any hobbies?
I am an artist and a crafter. Last year I started a craft business, making dream catchers and dream pillows. I expanded into handmade dream journals. Now I am making (and curating) divination tools, like bone throwing kits and pendulums. The Art Of Dreams And Divination went from being a dream to a reality when I started selling items online and off late last year. Items are for sale on Etsy, in my GlassGoatPublishing shop.
One final question...Do you have a blog/website? If so what is it?
I have three websites, which I try to upkeep regularly.
https://glassgoatpublishing.com/ is where you can learn the most about my books that are currently in print. I also do book reviews in the blog.
https://yvonneglasgow.com/ is my writer website. This is where my portfolio is.
https://theartofdreamsanddivination.com/ is the craft business I launched last year. This is the culmination of my two degrees (a Ph.D. in Holistic Life Coaching and a D.Div. in Spiritual Counseling), my love for divination, and my passion for arts and crafts.


Related Posts