Jeffrey Cook 
Jeffrey Cook lives in Maple Valley, Washington, with his wife and three large dogs. He was born in Boulder, Colorado, but has lived all over the United States. He's the author of the YA Fantasy Foul is Fair (first of the Fair Folk Chronicles), the Dawn of Steam trilogy of alternate-history/emergent Steampunk epistolary novels, and the YA Sci-fi thriller Mina Cortez: From Bouquets to Bullets. He's a founding contributing author of Writerpunk Press and a contributor of RPG writing to Seattle's Deep7 Press. When not reading, researching, or writing, Jeffrey enjoys role-playing games and watching football.   Click Here  to visit Jeff's Website.
Kathrine Perkins
Katherine Perkins lives in Coralville, Iowa, with her husband and one extremely skittish cat. She was born in Lafayette, Louisiana, and will defend its cuisine on any field of honor. She is co-author, with Jeffrey Cook of the YA Fantasy Foul is Fair. She is also the editor of the Dawn of Steam series and serves as Jeff's co-author of various short stories, including those for the charity anthologies of Writerpunk Press. When not reading, researching, writing, or editing, she tries to remember what she was supposed to be doing.

Newest Release...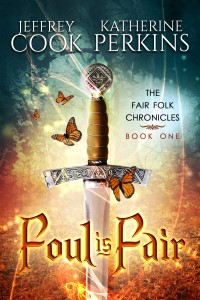 Lots of girls play Fairy Princess when they're little. Megan O'Reilly had no idea the real thing was like playing chess, guitar, and hockey all at once. Megan had known for a long time that she wasn't an entirely typical girl. But living with ADHD—and her mother's obsessions—was a very different thing from finding out she wasn't entirely human. Somewhere out there, in a completely different world, her father needs help. There's a conflict, revolving around Faerie seasonal rituals, that could have consequences for humanity—and if Megan's getting the terminology straight, it sounds like her family aren't even supposed to be the good guys. As she's further and further swept up in trying to save her father, Megan may be getting too good at not being human.

Have you ever finished reading a book and wished you could get to know one of the characters a little better?  Well keep reading to learn more about Megan O'Reilly in Foul is Fair...
Megan O'Reilly, tell me a little about yourself. Where are you from? Is there anything you would like your fans to know about you that maybe wasn't revealed in your story?  
I'm a 16-year-old high school student from Seattle, WA. Apparently, my dad is some kind of Faerie king, not that I'd ever heard anything from him until recently. Much as I don't really like Faerie politics and weird things trying to kill me, a lot of it kind of makes more sense than living under all of my mother's rules, school, and all of the supposedly normal stuff. It's definitely more exciting.
Where did you grow up and what was your childhood like?  
I grew up in West Seattle. My dad left when I was two -- all I really remembered was his voice, sort of. My mother used to be some kind of local rock star, but you certainly wouldn't know it now. She's really big on rules, schedules, routines, and lots of doctors appointments to try and deal with my ADHD every time my grades slip a little.
Otherwise, I guess it was pretty normal. We have a house, I have some good friends, especially Lani Kahale. Lani's apparently like me, in the half-faerie thing, except instead of half-sidhe like me, she's half-menehune, which is kind of a Hawaiian lawn gnome or something. The other difference is that her father stuck around.
My favorite classes were all about art and music, and I'm hoping to somehow convince my mom to let me go to art school when I graduate..
What makes you, Megan, so special?   
I'm not exactly sure. I guess being the Faerie King's daughter is kind of cool, but I don't really know how to do much magic stuff yet, though they think I have a knack for it. Lani is the one who knows all sorts of stuff about the faerie stuff. She still appreciates my ideas and plans, though. I guess we make a pretty good team.
Tell me about your reputation and how it has impact your life and your relationship.   
I don't know how much of a reputation I have. I guess I'm kind of an outlier in high school. I mean, it's not like anyone gives me a lot of trouble or anything. I'm just no one special. Most of the faeries, I guess, didn't even know I existed, since my dad kept my existence secret until he couldn't anymore.
Do you have any regrets? Is there anything you wished you had done differently?  
I don't feel like I've had a lot of control of a lot of things. Being on less medication might have helped a little in getting going sooner to figure things out, but I have no idea how that would have affected the struggle in school, or the timing of anything.
Where do you see yourself in five years?  
Right now, I have no idea. I'm not sure if I'm supposed to go help my dad in the Faerie realm, or if I can go to art school, or if Mom will insist on going to U. Washington, or what. Right now, I'm not even sure what I'd choose, if I get a say in the matter.
If there was one thing you could change about your past what would it be?  
I had no control over it, but I really wish I'd either known my father, or gotten to meet the person my mother used to be. It would have been kind of nice to grow up knowing a little more about who I am, or maybe who I was supposed to be.
July Giveaways...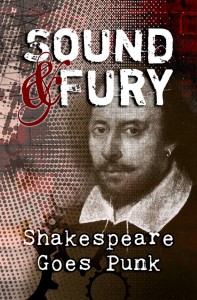 Giveaway Days...
July 3-5th and July 24th - 25th are giveaway days for the kindle edition of Sound & Fury: Shakespeare Goes Punk.  This is a charity anthology and all profits go to support   Paws.org   an animal shelter and wildlife rescue in Lynnwood, WA.  Jeff and Kate contributed a steampunk version of 'The Winter's Tale' with 500% more being pursued by a bear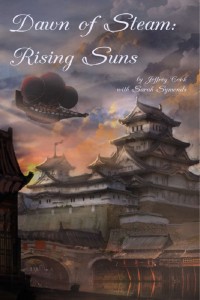 More giveaways...
Dawn of Steam: Rising Suns, the culmination of the alternate-history/emergent Steampunk epistolary trilogy written by Jeff and edited by Kate.  Giveaway dates are also July 3-5th and July 24-25th.

Previous books in the Trilogy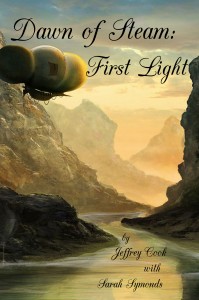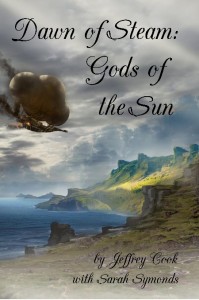 Related Posts