Interesting facts...
Tell us a Little about yourself.
Well, I'm J.J. Francesco. I write for NewReleaseToday, and I'm an aspiring author. I feel like I'm incredibly simple on the outside but very complicated with all the junk swirling in my head that I rarely talk about. I guess that's where the stories come from. They're dark. They're crazy. But hopefully readers will find them real and honest.
Tell us your latest news
I just released my second novel, Death Scene. It's a sequel to my debut, Blood Chain, but is essentially a standalone novel. Especially upon revision, the story's focus is a lot more tied to the new characters so being familiar with the first book isn't a requirement. Although those who are will find a lot of movement for their favorite characters.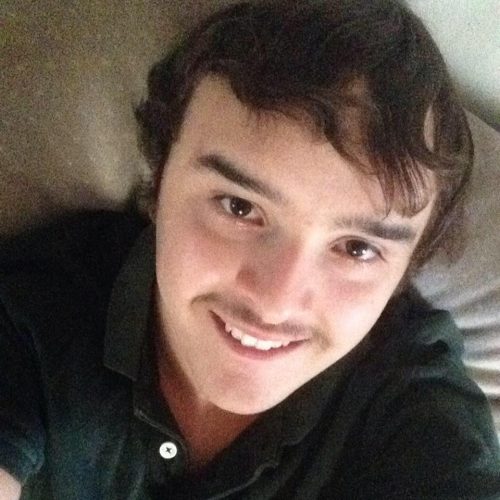 Have you ever finished reading a book (OR...been intrigued by a synopsis) and wished you could get to know one of the characters a little better? Well, you're in luck. Get to know Wayne Tempest, from Death Scene (The sequel to Blood Chain)...
Wayne, tell me a little about yourself. Where are you from? Is there anything you would like your fans to know about you that maybe wasn't revealed in your story?
Born in raised in South Jersey. I've settled nearer the coast in recent years. I used to be a cop but couldn't take all the red tape so I left that and became a private investigator. Pissed off a lot of my coworkers but I think it's for the best. As for what people don't know about me, I think nobody knows that I can shred a guitar like it's nobody's business. I haven't met a guitar solo I didn't like.

Tell me about your reputation and how it has impact your life and your relationship.
My old buddies at the precinct felt betrayed when I left the force that I somehow walked out on them. I hope my reputation as a private investigator mitigates that somewhat. I may not be as publicly respected but I am more hands on helping people now. And unlike when I was a homicide detective, I'm not waiting until a body drops to start looking for justice.

Do you have any regrets? Is there anything you wished you had done differently?
I live in regrets. Anybody who says differently is lying either to you or to themselves. I didn't fight harder to retain custody of my daughter. I didn't fight harder to keep Julie in my life. I didn't fight harder to stop my foster father from being murdered right in front of me…there's a lot I'd do differently. But if it's done, at least I can use it as a jumping point for making better decisions now.
Describe something that happened to you for which you have no explanation?
I'm not dead. For some reason, people have come into my life to save me when I needed them most. My foster father, Julie, Therese, Aaron. Some of the saving was more direct. Actually making me get my crap together. Others it was more subtle, more indirect. I didn't realize they were saving me until after the fact.
Want to know more about JJ Francesco? Continue reading his in-depth interview...
When and why did you begin writing?
I think I've always been writing since I could remember, in some form. I did the Reading Rainbow contests as a kid. But mostly, I imagined. I made my own Pokemon up and created stories for them. Naming stuffed animals and creating imaginary fanfics in my head are definitely the seeds of bigger writing. The pieces kind of just fell into place to keep developing. I started writing short serials and eventually I found myself writing novels. I think if I had to pick, I'd probably choose a skill more lucrative. But when you have these ideas swirling in your head, you either write them down or go nuts. Well, you go nuts anyway but less so than if you kept it all bottled up.
Do you have a specific writing style?
I think I have a specific story style. My composition style seems to evolve as I learn more and I notice trends in my writing that come and go. Storylinewise, I think I have definitely painted myself into an M.O. There's almost always a boy as a central character, usually having lost one parent. There are usually brothers or friends who are freakishly close to him. They usually talk at least two years more mature than their age and one of them usually dies. Sometimes the main kid, sometimes the friend, sometimes the parents. There's always lots of Catholic imagery. There are always lots of normal scenes to contrast the darkness. It can be scenes of eating, bathing, sleeping, playing, just talking. All those awkward, intimate moments I think we may not realize can be really interesting and meaningful. I sometimes really scare myself into thinking I'm nuts and I psychoanalyze my motives endlessly. But I guess the family is just so meaningful to me that I can't help but explore it and I just want readers to feel like they know these people so well that it's like they live with them. So I guess if I had to pick a style, that's it. It's dark, awkward, and sometimes tragic but also hopefully funny and rewarding too. I've tried to break this trend but that usually just makes it stick more. Might have to just accept my style as my own.
New Release ( Death Scene)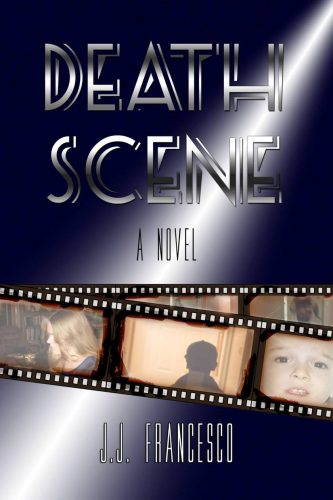 Previous Novel (Blood Chain)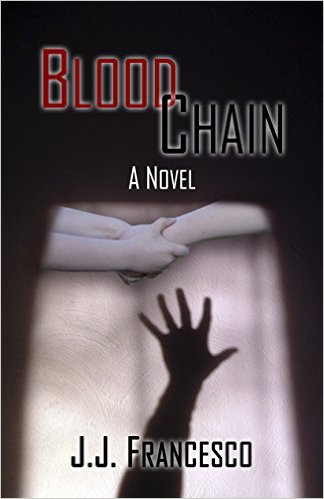 Is there a message in your novel that you want readers to grasp?
I try not to hammer themes too much. Obviously love, faith, and family are there. Friendship, brotherhood, and the intrinsic value of human life. Overall I think hope is a theme of my work. As dark as it all gets, there's hope at the end. It might not come soon and it's not an easy journey and you don't come out of it unscathed. But there's ultimately a well-founded hope beyond all of it.
Are experiences based on someone you know, or events in your own life?
I try not to base too much on people I know. I do base a lot on my nostalgic view of myself. I've modeled a few younger characters after the younger me through the distorted adult lens. Places and settings are also modeled after real places a lot. But so much of what I write is also completely imaginary. I think the two mixing is where most stories come from and I find it incredibly fascinating.
What book are you reading now?
Not much right now but a few weeks ago I finally got around to reading Room by Emma Donoghue. Very well done and actually very much a good study for my next project.
What are your current projects?
I have the draft of 6 more novels written waiting to be rewritten, and endless ideas in my head. I am currently in the process of vetting the options for going back to the very first novel I ever wrote and rewriting it for release. I'm likely renaming it and also changing the POV. I am thinking of doing the first person present view of a child, like in Room, only with 3 different kids. I don't do first person present so this will be interesting.
Can you share a little of your current work with us?
Like an excerpt? Sure. Most of this book needs heavy rewriting and this is only a rough draft but here's a look at the new beginning.
He's trying to get me.
I back against the bars on the jungle gym. The sun's hot so they burn but I don't have anywhere to go.
"What's wrong, Austin? Run out of places to run?" Robert takes another step closer. Then his shadow blocks out the sun.
"Uncle," I say. "Please, just leave me alone."
He laughs. "You're the one who invited me to your birthday, loser."
"I had to invite everybody in the class." I look down. Today's supposed to be my day. I'm turning 7 at 2:56PM. I want to play games with Conner and run in the elephant sprinklers. The playground has them on full blast today. They must've known it was my Birthday.
Is there anything you find particularly challenging in your writing?
Everything. Actually getting it done, keeping everything consistent, following all the "rules" and all. And especially keeping the story from veering off too far or becoming too much a crazy manifestation of pet peeves and unresolved issues. But I imagine a lot of writers struggle with this. Conflict breeds conflict, right?
Who designed the covers for you novels?
Jansina Grossman of Rivershore Books. She's pretty dang amazing, isn't she? Not only is she talented but she put up with me long enough to get this done. No easy task. I also had great help from the models, including your nephew, Melanie. Thanks to all who helped make these covers awesome.
Do you have any advice for other writers?
Find what works for you. There are so many ideas out there and so many ways that somebody thinks you have to do something. When it comes to matters of faith, I'd agree. Everything else? Not so much. Writing especially is an individualized path. Be open to guidance but not so desperate that you let it betray what you really want. Figure out what you want and work towards finding what paths get you there, and which don't. Focus on what works and don't be afraid to let yourself change your mind as you grow.
Is there one person past or present you would meet and why?
Jesus Christ and his Mother Mary. For obvious reasons. Easy answer, huh?
What TV shows/films do you enjoy watching?
Too many to name. Lost, Person of Interest, Castle, Picket Fences, Criminal Minds, and even One Life To Live. I also like comedy like The Goldbergs. For movies, the range is wide. Mrs. Doubtfire, Knowing, Super 8, Kindergarten Cop, Con Air, Christmas flicks. I can list all day. I'm particular, but I'm versatile. Film and TV influence my writing heavily and hopefully that versatility shows.
If you were not a writer what else would you like to have done?
Well, I do other things now to actually make some money in the immediate. In terms of a different dream job, I'd have liked to see what acting would be like but mainly out of my writing tendencies. If I had a musical bone in my body, making albums and performing concerts might've been fun too.
One final question...Do you have a blog/website? If so what is it?
I just recently tried to launch a wordpress site. It's simple but so is my bibliography. Readers can also find me on Twitter. Facebook and Amazon.
Related Posts