Each month I typically take a minute to highlight fellow Indie Authors and their amazing work.  This month, however, I thought I would take a minute and highlight a professional, yet personable editor.  In other words, an author's "Best Supporting Actress" - XterraWeb.

Meet the Editor:  Kelly Hartigan
I have always been an avid reader, reading multiple genres. From my love of reading, I discovered the joy of writing, and in turn, a penchant for grammar. In almost every job held, I was the person requested to write and edit documents from letters to articles to website content. I have always had a desire to be a more integral part of the literary world. Through the Internet, I met some wonderful authors, helped some out, and was set on a new career path of freelance editing.
I have an ever-growing educational background. I received an Associates of Applied Sciences degree in Web Technology (with an emphasis on technical writing) in 2005 from Flathead Valley Community College (Magna Cum Laude, Phi Theta Kappa). In 2008, I received a Bachelor's of Science in Information Technology with a major in business communications and minor in project management from Kaplan University (Summa Cum Laude, Alpha Beta Kappa). During 2008 – 2010, I received several certificates in counseling and psychology from Liberty University.
In addition to my degrees and certificates, I have accumulated several college credits in courses such as Critical Thinking, Business Writing, Marketing, Interpersonal Relations, and Research, which will be applied to a Master's degree. I continue to seek opportunities to enhance my knowledge and skills through a variety of educational opportunities, including attending relevant seminars, workshops, and conferences.
I have more than fifteen years of cross-functional communications experience working with, and for, businesses of all sizes. My professional background is comprised of a varied field of occupations including legal assistant, content creation and management, website design, several administrative/management positions, and website editor for a non-profit organization.
My freelance editing career draws from the unique set of skills and experiences I have acquired from my diverse work and educational history. I am a team player, self-proclaimed workaholic, easy to work with, able to meet deadlines, and meticulous about details.
My primary goal as a freelance editor is to assist all authors in enhancing and polishing their writing to ensure they have a manuscript that is well-written, engaging, and enjoyable for their readers. I have a soft spot for Indie authors, and keep my rates affordable as I feel it is unfair for someone who has written an amazing story to be judged solely on editing errors.
My secondary goal as a freelance editor is to ensure my clients feel good about the experience and understand the suggested changes. To this end, I provide detailed explanations about changes as I feel this helps my clients to not only understand why, but also acts as tool to help them grow as a writer.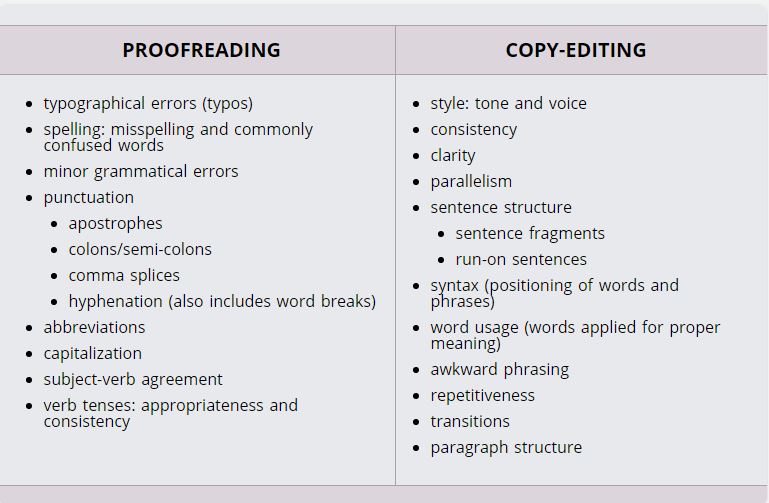 XterraWeb's editing process is different from the majority of editing services available for authors in that we offer a combination proofreading and copy-editing service. Most editing services offer different levels of editing, with the most common being proofreading and copy-editing.
When preparing to publish their manuscript or book, most authors are looking to enhance and polish their manuscript to ensure that there aren't any errors (typos, misspellings, grammar, etc.) that might distract their readers from the story line and an enjoyable read. Authors will generally be looking for both proofreading and copy-editing to finalize their manuscript for publication. Unfortunately, the majority of editing services provide proofreading and copy-editing as separate services.
Obtaining both proofreading and copy-editing can become expensive, with many editing services costing as much as $1,000 or more. Many authors, who are self-publishing and/or looking to keep costs down, may end up sacrificing quality and valuable editing services designed only to enhance their book. At XterraWeb, we provide a quality editing service with both proofreading and copy-editing services without breaking your budget or your bank.
XterraWeb's editing service is a combination proofreading and copy-editing service provided at an affordable, reasonable rate. We know authors want a high quality service at a reasonable rate and we don't believe that authors should be charged separate and sometimes very expensive rates for both proofreading and copy-editing services.
Our rates are based upon the book publishing industry standard of a book page. These standards state that one page is the equivalent of approximately 250 words based upon a page that is double-spaced, in a 12-point font, with one-inch margins on all sides.
We recognize that each manuscript is unique, and provide our combination proofreading and copy-editing service at an affordable rate based upon the complexity of the manuscript and the extent of editing required.
Rates range from $1.35 to $2.15 per page (or 250 words). The rate is determined through a required, free sample edit of 2,000 words. We have provided a table below reflecting the $1.35 – $2.15 per page (or 250 words) rate for different page counts/word counts to help authors see just how reasonable and affordable our rates are.
Rates effective as of January 1, 2016.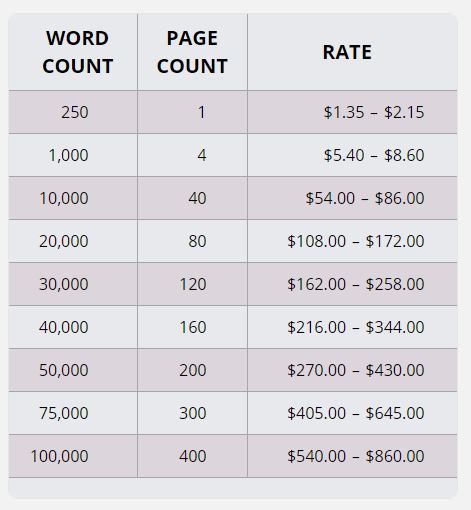 In addition to affordable editing services, Kelly also provides other author services such as Beta Reading, Reviews and Blog Promotions.  But that's not all.  She also has a book blog, in which she provides valuable information to authors on topics such as...
And many more...
While you're there... be sure to subscribe for regular updates.
Free 2,000 word sample edit.  New clients receive a 10% discount on editing services.  Affordable, Professional and great reviews.
I cannot say enough good things about Xterraweb! Easy to work with, very professional, cost effective, with outstanding editing that corrects your flaws and doesn't rewrite your style into something you are not! If you are an author, you owe it to your reader to go with Xterraweb! - Tim Hewett
Related Posts